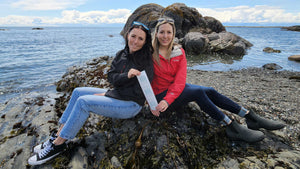 From a family company
to a female-led brand,
designed for innovation.
Lauren and Meagan literally grew up in the receipt and distribution industry, as part of family-owned company C-PAC, a veteran firm with 4 decades of business supply experience.
These two sisters have always been focused and competitive, but also share a passion for nature, ecosystems and business innovation. So when evidence began to emerge about the negative health effects of existing thermal receipt technology, they concentrated their efforts on developing a better way of marketing healthier, more sustainable and even regenerative receipt alternatives.