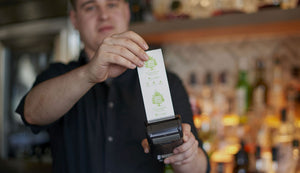 Add up the benefits
of switching to EcoChit.
Making a difference with your business has never been so easy. And every receipt lets customers know you care.
100% Phenol Free – No BPA, No BPS
In 2008, Health Canada declared BPA "toxic" because of reproductive and developmental toxicity and environmental effects.
In the years since, BPA has been largely phased out from food packaging and products, but is still being used in some receipt paper. Some manufacturers ended up simply replacing BPA with BPS - a chemical that may be just as harmful.
EcoChit receipts use a thermal coating that is free of all phenols, including BPA and BPS. With receipts being handled every day by your customers and employees, why take a chance?
Recyclable
EcoChit receipts are 100% recyclable, in any home- or business-based paper recycling stream. Receipt paper coated with BPA and BPS is NOT recyclable. In fact, putting phenol-coated paper into the recycling system can contaminate other products down the line.
Responsibly sourced
With paper receipts using some 10 million trees in the US alone, ensuring traceability and good management in the fiber supply is key. That's why EcoChit receipts are sustainably sourced, using PEFC and FSC certified paper.
Regenerating
Through verified partnerships, we have built a model that enables every case of EcoChit receipts to contribute to the regeneration of critical ecosystems.
With Veritree, each case sale results in the planting of two trees, traceable and verified.
Through a new partnership with Ocean Wise, EcoChit receipts are also helping plant kelp forests off the coast of Vancouver Island, enabling the return of a whole web of local species.
Customizable
The story and QR link on the back of each EcoChit receipt tells customers that companies care about their health, and the health of our planet. With a custom-printable receipt back, businesses can customize their message even further, and invite trackable end-user engagement to learn more about what is important to their customers.
Tested and Certified for POS Printers
Available in universal sizes, EcoChit's bright white surface and composition are tested and recommended by leading manufacturers of point-of-sale printers. And with a 100% recycled cardboard tube at the center of each roll, you could even say they are sustainable to the core.