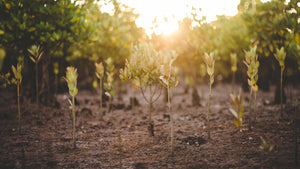 Now your business receipts
can help plant trees.
With EcoChit, case sales result in the planting of trees through veritree, traceable and verified with proprietary blockchain-powered GPS mapping of reforestation projects and a link to a virtual forest. But these aren't just any trees.
Why the EcoChit program reforests mangroves in Madagascar.
Mangroves are among the most carbon-rich ecosystems in the tropics. Scientific studies have shown that the average annual carbon sequestration rate for mangrove forests is approximately two to four times greater than the global average for mature tropical forests and up to 10 times the carbon sequestration rate for terrestrial forests.